About
CLEAN GULF Exhibit Hall
The CLEAN GULF Exhibit Hall will be located in Hall D of the Ernest N. Morial Convention Center. Meet with 150+ companies that are ready to discuss the unique challenges you face with prevention and response operations. Other activities happening in the exhibit hall include poster sessions,  exhibitor showcase theater presentations and the opening night reception on Wednesday.
Build Your Schedule
We're offering an online planner for attendees of CLEAN GULF! With this tool you can build a personalized schedule of events for your trip to CLEAN GULF. You can add exhibitors you want to meet with and sessions you want to attend to your personal show planner on the CLEAN GULF website. You have the option to add sessions to your Outlook calendar to serve as a reminder or you can print out your customized agenda and floor plan before you head out to CLEAN GULF!  Click here to create your account!
Exhibit Hall Events
Networkin
g Breaks
Wednesday, November 14  10:00 – 10:45 AM
Wednesday, November 14  3:00 – 3:45 PM
Thursday, November 15     10:00 – 10:45 AM
Networking breaks make for the perfect opportunity to walk around the show floor and check out the products and services offered by our exhibitors.
---
Opening Night Reception

Wednesday, November 14 5:00 PM – 6:30 PM
Enjoy lite bites and drinks as you walk the exhibit floor and network with fellow attendees.
How to Exhibit
CLEAN GULF is the premier event for those involved in spill prevention, preparedness and response of oil and hazardous materials. Over 2,000 professionals from industry and government will converge at CLEAN GULF to network, discuss best practices, and search for new products and services on the exhibit floor.
Our attendees are searching for the top products and services for prevention, emergency response, cleanup, remediation, fire and salvage, aerial surveillance, disaster recovery and crisis management, just to name a few.  Exhibiting at CLEAN GULF will put you in front of buyers who are actively searching for new products and services and allows you to connect with your next customer and educate them on your company.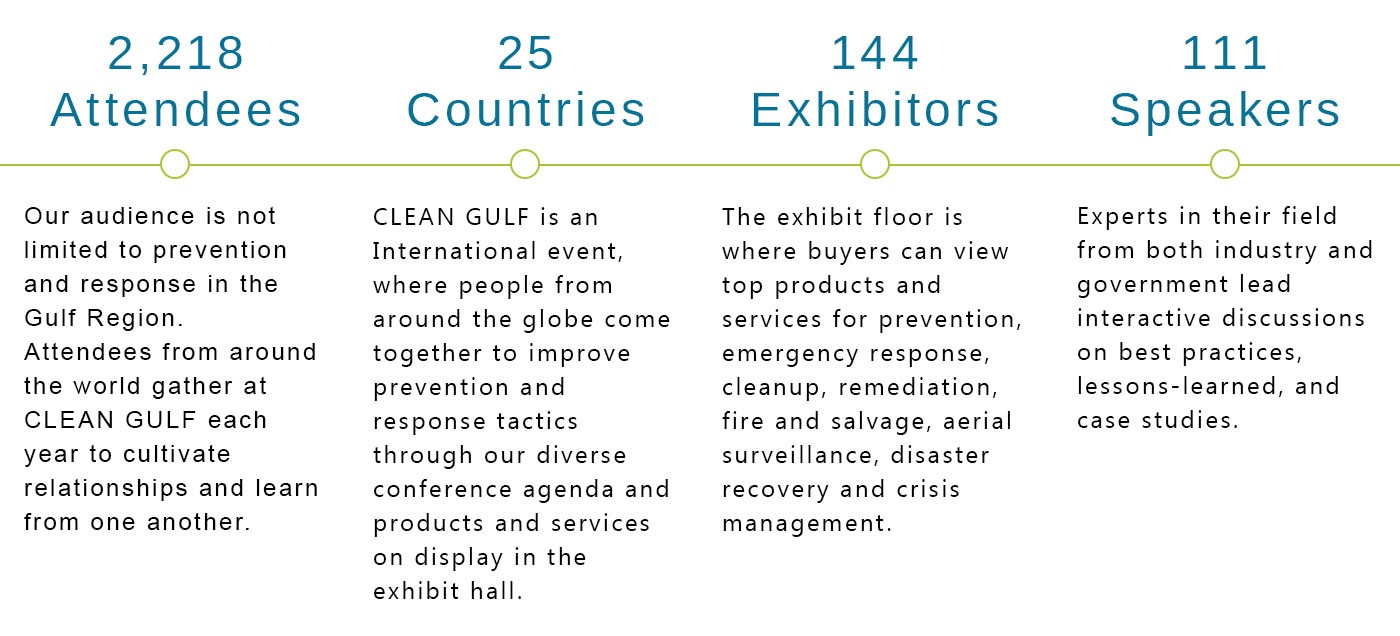 How to Exhibit:  

Helpful Links:
Exhibit Space Contract
Floor Plan
Exhibitor Prospectus 
Furniture Packages and Marketing Upgrades Form
Sample list of 2017 CLEAN GULF Attendees
CLEAN GULF Stats and Facts
Exhibit space rental starts at $28/ sq. ft and includes:
Floor space with standard booth backdrop, side dividers and booth sign
An unlimited number of complimentary booth staff registrations and deeply discounted full conference registration fees
50 word listing in the official show guide
Final list of ALL registered attendees
Discounted hotel rooms in official hotel block
Access to a FREE suite of promotional tools to boost your success at the event
Unlimited amount of customized printed and digital expo only passes you can send to clients/prospects inviting them to attend the CLEAN GULF Exhibition at no cost
Option to post your company's new product press release(s)on the CLEAN GULF website

Sample of the products and services requested by CLEAN GULF attendees:
Analytical laboratories
Analytical resources
Chemical detection
Chemical response
Clean-up contractors
Containment equipment
Crisis management software
Data service providers
Deepwater response
Disaster/communication/ software/services
Emergency response safety and health consulting
Emergency response safety and health equipment
Emerging oil surveillance technologies
Environmental teams
FLIR systems
Gulf regional response teams
ICS specialists
Incident command post evaluation
Incident software
Industrial fire fighting
Information sharing
Inland response
Mapping and tracking resources
Marine firefighting
Notification resources
Oil and gas companies
Oil detection dogs
Oil spill incident response
Oil spill response organizations
Oil spill response software
Petroleum companies
PPE
Precision planning and stimulation
Rail car and pipeline response specialty equipment
Remote sensing/aerial surveillance technology/ equipment
Response contractors and consultants
Risk analysis courses/tools
Safety equipment
Salvage/towing equipment and services
Salvage operation equipment and services
Swiftwater boom
Skimmers
SMTs
Solidifiers
State and Federal agencies
Submerged oil – surveillance and detection equipment
Surface oil – surveillance and detection equipment
Swiftwater oil skimmers
Training vendors
Exhibitor Press Releases
Product launches and other announcements from our exhibitors can be found here!
There are currently no press releases.